Summary
First, I discuss some of my personal history with artificial intelligence.
Second, I briefly outline the state of artificial intelligence in 2021.
Third, I provide some high level growth numbers for the AI market.
Fourth, I specifically point to Palantir's AI offerings with examples.
Lastly, I review several important AI growth tailwinds for the business.
Looking for more investing ideas like this one? Get them exclusively at Growth Stock Renegade. Learn More »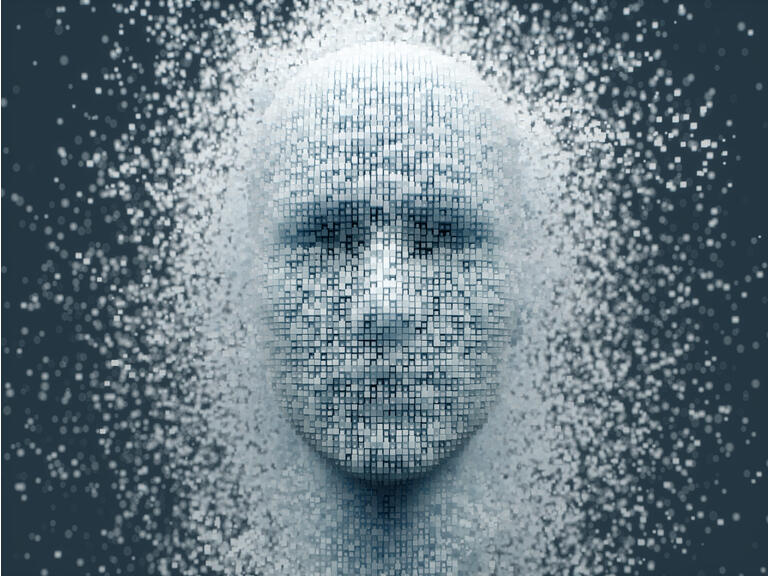 Quick Background
This is an article about Palantir (NYSE:PLTR) and artificial intelligence. First, I discuss some of my personal history. That includes some raw basics and concepts that I have learned over time.
Second, I briefly outline the state of artificial intelligence in 2021. This is not all encompassing but it's meant to anchor some key ideas, including what's hot right now.
Third, I provide some high level growth numbers for the AI market. Significant progress has been made recently, and the future is especially bright.
Fourth, I specifically point to Palantir's AI offerings. They have a pile of great products, but also wonderful partnerships and powerful customers.
Lastly, I review several important AI growth tailwinds for PLTR. This includes military considerations, social momentum and related technology progress.
Personal History
Without boring you with my life history I want to let you know that I have education and experience with artificial intelligence. I clearly remember talking about many types and styles of artificial intelligence with very smart people. For example, many people don't know about the "debate" between rules-based AI and machine learning AI.
A rule-based artificial intelligence produces pre-defined outcomes that are based on a set of certain rules coded by humans. These systems are simple artificial intelligence models which utilize the rule of if-then coding statements.
And then…
A system that accomplishes artificial intelligence through machine deep learning is known as a learning model. The machine learning system defines its own set of rules that are based on data outputs.
At this point in time, very few people think that the future of artificial intelligence is rules-based, and machine learning has taken hold. For that reason, let's pivot.
Back in the day, I studied connectionism and neural networks, which are the early conceptual ideas behind machine learning.
Connectionism is a movement in cognitive science that hopes to explain intellectual abilities using artificial neural networks (also known as "neural networks" or "neural nets"). Neural networks are simplified models of the brain composed of large numbers of units (the analogs of neurons) together with weights that measure the strength of connections between the units. These weights model the effects of the synapses that link one neuron to another. Experiments on models of this kind have demonstrated an ability to learn such skills as face recognition, reading, and the detection of simple grammatical structure.
Empirically, and early on, it was pretty simple, and looked like this: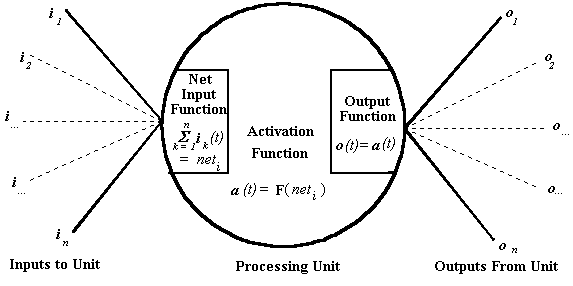 Source: István S. N. Berkeley Ph.D.
And, visually, in terms of feeding the animal, it looked like this: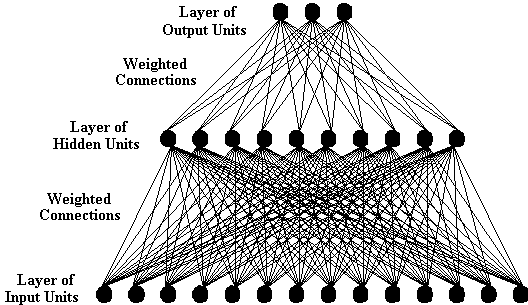 Source: István S. N. Berkeley Ph.D.
Please note that this "advanced material" was first published in 1997, so this "cutting edge" machine learning style of artificial intelligence is well over 25 years old at this point. Obviously things have radically improved over time, but the basic ideas still hold true, give or take.
I will also point out that there are still problems with connectionism, and now specifically machine learning. Like the human brain, it's still extraordinarily hard to actually understand what's going on inside.
The weighted connections and layers of hidden units, for example, are made up of numbers, formulas, code and so on. There isn't an easy way to point to the pieces and parts of the network and see bananas, cats or what you're planning to buy on Amazon (NASDAQ:AMZN).
Enough about that because while academics care about this stuff, capitalists are just too busy exploiting the technology to obtain real-world results.
Artificial Intelligence in 2021
Tim Ferriss recently interviewed Eric Schmidt, former CEO of Alphabet (NASDAQ:GOOGL). Here's what happened that got everyone so interested:
There was a period of about 20 years, which is known as the AI winter, where the systems didn't work. Then, a series of mathematicians in the eighties and nineties invented what is today known as deep learning. I'll spare you the technical details. But the important thing about this deep learning is it allows the manipulation of patterns at scale that allowed these algorithms to work. The big breakthrough was in 2011 with a process called ImageNet, where there was a contest to see if computers could see better than humans.
In short, it worked like gangbusters. And, far more recently, three big things happened, on top of that:
This is all according to Eric Schmidt. While I could quibble with a few things, I think that he's largely correct about the rapid progression. Specifically, the outputs and outcomes are staggering, mostly because real results are now manifesting. Therefore, capitalism and economic factors come into play. In short, profits can be made because of the value created.
But, remember my warning from above. As Schmidt puts it:
These models are interesting because you train them, and you don't know what they know. And furthermore, they can't tell you. You have to ask them. So it's like a teenager. [Emphasis: Author]
So, AI right now is extremely powerful but it's also very black box. That is, we simply don't know what it knows, and it doesn't know what it knows.
Capitalism doesn't care as long as there are profits.
Quick Numbers About Progress
I don't always agree with Cathie Wood from ARK Invest but when she shares data and research, I almost always pay attention. Here's what just caught my eye a few days ago about artificial intelligence:
Applying Wright's Law to historical data from OpenAI and NVIDIA, we discovered that the combination of innovations in both hardware and software is driving the costs of AI training down by approximately 50% every nine months. Based on our forecasts of AI hardware and software spending, this rapid rate of decline is likely to continue for the next decade. [Emphasis: Author]
Here's why this matters. As I've explained above, AI is now all about data and training. It's not about any prewritten hard rules, or human intervention. With AI, this is absolutely true: data is the new oil. Here's the Economist:
What has changed? Smartphones and the internet have made data abundant, ubiquitous and far more valuable. Whether you are going for a run, watching TV or even just sitting in traffic, virtually every activity creates a digital trace—more raw material for the data distilleries. As devices from watches to cars connect to the internet, the volume is increasing: some estimate that a self-driving car will generate 100 gigabytes per second. Meanwhile, artificial-intelligence (AI) techniques such as machine learning extract more value from data. Algorithms can predict when a customer is ready to buy, a jet-engine needs servicing or a person is at risk of a disease. Industrial giants such as GE and Siemens now sell themselves as data firms. [Emphasis: Author]
To summarize, the costs of hardware and software are coming down. And, it's often a race to get the most data, so that the systems can be trained and maintained. With power increasing at the same time that data is flooding in, opportunities will be created for those who are moving fast enough.
So, What About Palantir?
Here's a taste of what the company has available:
All of those pages include comments about AI functions and features. For example, from the AI/ML page:
Palantir makes AI/ML models operational by deploying them on top of a trustworthy data foundation and continuously improving them based on user decisions and feedback — in a cyclic way. Our platforms provide the matrix for end-to-end MLOps, propelling AI/ML out of the experimental vacuum and into the real world.
It's very hard not to bump into "artificial intelligence" and "AI" on the PLTR web site. It's all over the place, especially in the forward facing marketing materials – not just because it's a buzzword or hot idea, but because it's literally a huge part of what they offer to the market.
And, regarding practical applications, as recently discussed in the Q3 2021 Results Conference Call, PLTR is deploying in a big way. Here's one example:
I'm proud to say that the MetaConstellation, which we featured in last quarter's earnings call met its moment when called upon by UK MOD to enable Noncombatant Evacuation Operations in Afghanistan. As a reminder, the MetaConstellation is radically changing how satellites are test, the latency of collection and it's creating a fundamental link in the AI enabled kill chain. We are orchestrating a Meta-constellation of more than 300 satellites by working with an array of commercial space companies.
Combined with this:
In addition, Meta-constellation was also used to great effect at last month's [Indiscernible] U.S. military exercises were provided timely and effective targeting information. This is all made possible because of Apollo for Edge AI.
But, is PLTR alone? Are they unique, and is there a compelling opportunity here? How do they stack up? When asked about competition in AI here's what PLTR's Chief Operating Officer Shyam Sankar had to say:
Our competition is not any other Company. It's really — the competition is our customer, specifically, our customer's IT department and their desire to build their own solution. And you know what? It's not even really their fault. There's an army of consultants and comp providers who pedal completely bogus DIY market textures that are never going to work. It took us 15 years and nearly $3 billion of development and we continue to innovate every day. [Emphasis: Author]
Back in December 2020, I dug into this: Palantir's Biggest Competition. In any event, the main point is that PLTR has operational AI offerings that provide tremendous value to customers. They aren't just building dashboards. PLTR offers up the "guts" of decision making tools, with AI augmenting humans.
And, PLTR isn't just selling AI to the government. Here is a sample of use cases to noodle on:
Source: Palantir Edge AI
We know that PLTR is open to partnerships, too. For example, PLTR is working with IBM to deploy AI solutions. While I'm no longer a fan of IBM, I do respect some of their technical work, and the reach of their sales team.
All of this is to say that PLTR is very much an artificial intelligence company. Not only do they have the products, they have the partners and customers.
Artificial Intelligence Tailwinds
It's likely that you're already aware of the opportunity at a high level. For a moment, I want to reflect on some of the tailwinds.
First, we have the National Security Commission on Artificial Intelligence. Here's what I found in their Final Report:
America is not prepared to defend or compete in the AI era. This is the tough reality we must face. And it is this reality that demands comprehensive, whole-of-nation action. Our final report presents a strategy to defend against AI threats, responsibly employ AI for national security, and win the broader technology competition for the sake of our prosperity, security, and welfare. The U.S. government cannot do this alone. It needs committed partners in industry, academia, and civil society. And America needs to enlist its oldest allies and new partners to build a safer and freer world for the AI era. [Emphasis: Author]
Point blank, we know that PLTR is one of these key industry partners. And, we know that PLTR is a lot like Lockheed Martin (NYSE:LMT), in that it acts as a systems integrator of sorts. For example, if you reference the Meta-Constellation satellite example from above, I know with a high level of certainty that PLTR worked with BlackSky (NYSE:BKSY) on this project. Furthermore, we also know that PLTR invested in BKSY, bringing that partner in closer.
Eric Schmidt helped write the NSCAI Report and as he pointed out:
We concluded that the United States is slightly ahead of China in these areas that China has a national program to focus on this. They're pouring literally billions and billions of dollar equivalents into this. They generate four times more engineers than we do just because of population size. And they're extremely focused on dominance of AI by 2030, which is soon.
I doubt that the United States government will stand by, waiting for China to surpass them. Specifically, I cannot imagine the military leadership will allow this to happen, so PLTR will continue to get attention and money.
Second, PLTR's artificial intelligence expertise can quite easily tap into trends and the zeitgeist. For example, the "metaverse" is now a hot topic. Here's what PLTR's Chief Operating Officer Shyam Sankar said:
We have worked on augmenting imagery and full-motion video with AI detection in mission context real-time to drive operational decision-making. At a recent military exercise, our Apollo for Edge AI capability was used across air-launched effect and unmanned aerial vehicles to send targets to fighter jet. Those targets popped up in the pilot's augmented reality heads-up display. We are at the Edge. We are integrating with Edge devices from night vision goggles, to heads-up displays from augmented reality and cockpit's training simulations. AI enabling the kill chain requires pushing context to the decision-making Edge. So we see AI and VR as integral part of everything that we do.
Similarly, regarding Mars, the moon, and space:
With Gotham, we are focused on continuing to build the AI enabled kill chain across every sensor and every shooter covering all domains from space to Mars.
The location doesn't matter. PLTR's AI offerings are highly flexible. It's the customer who ultimately decides how, where and when it'll be deployed.
Third, we know that there is demand for AI but not enough supply. For example, big picture, here's what we know:
Nearly 75% of businesses surveyed in an IBM-sponsored report said they were exploring or implementing AI. However, 37% cited limited AI expertise and 31% noted increasing data complexities and silos as barriers to successful adoption.
To put this in a different light:
The global artificial intelligence market size was valued at USD 62.35 billion in 2020 and is expected to expand at a compound annual growth rate (CAGR) of 40.2% from 2021 to 2028. [Emphasis: Author]
And, the IDC reports: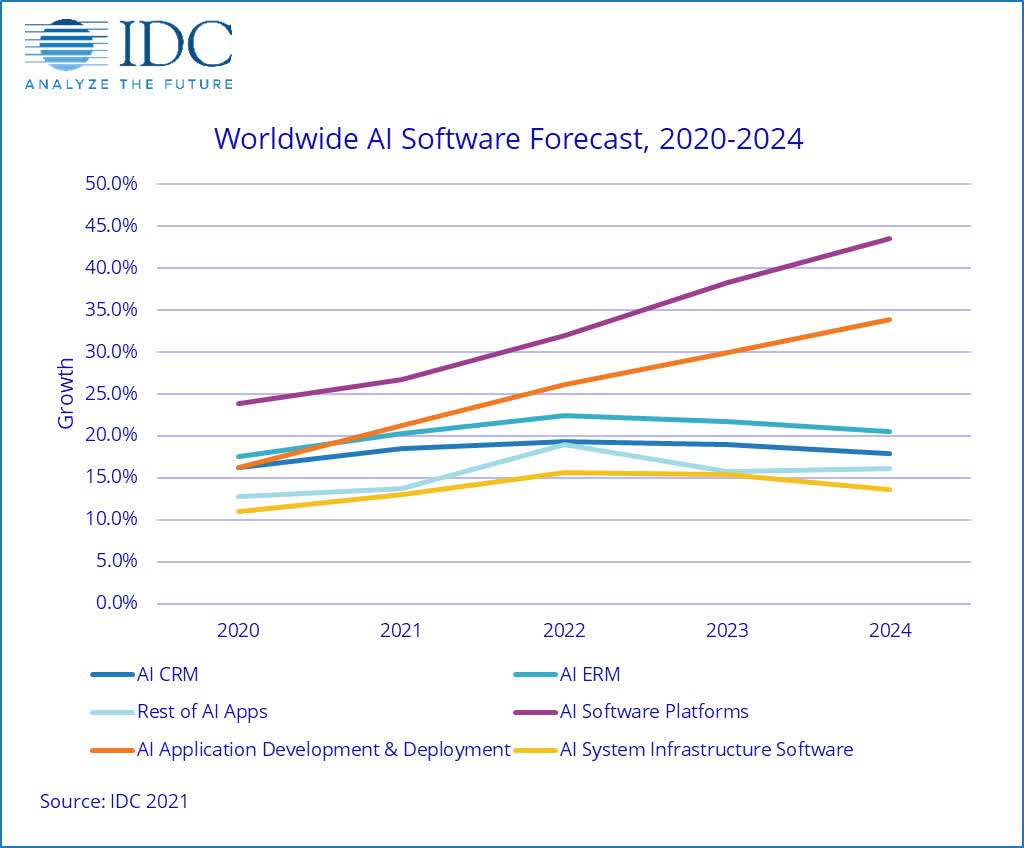 Of course, I could keep dropping in more and more charts, graphs and quotes about this. The point is that the AI market is growing like crazy; government, commercial, and beyond. Growth is likely to be 30-40% for many years.
Adding it all up, there's a military threat (i.e., China), social inertia (i.e., Metaverse), and real business needs. PLTR's got what everyone wants.
Wrapping Up
And, as I've previously said in a previous article called What Palantir Is Not:
Palantir Is Not a Big Data Company
Palantir Is Not a Services Company
More and more, I see that Palantir is an artificial intelligence company. It utilizes data and it helps companies with their services, and, as Yahoo has eloquently explained:
PLTR has tremendous upside potential and is well-positioned to emerge a winner in the data analytics and machine learning space. It stands to shine particularly in assisting Western government agencies with high-priority missions and in helping large corporations with unlocking and optimizing their use of large swathes of data.
Plus, as I've indicated PLTR offers AI products over and over. PLTR's leadership is very clear that they are AI integrators, via partnerships with companies like IBM and BKSY. And, of course with customers.
Financially, the growth of the AI market lines up quite well with what the company has communicated about business growth:
Our Q4 revenue guidance implies full-year 2021 revenue of $1.527 billion, which represents another year of revenue growth of 40% or higher. Additionally, for the full-year 2021, we are raising our annual adjusted free cash flow guidance to an excess of $400 million, an increase of $100 million from our prior guidance. Continuing to execute the guidance strategy set forth by our CEO, Alex Karp, in our year-end 2020 earnings call with regard to long-term revenue guidance, we are providing and will continue to provide guidance of 30% or greater revenue growth for this year, and the next 4 years at each earnings call. [Emphasis: Author]
The central point is that I am highly confident in PLTR's 30% growth projections, given their strengths and related growth in AI. That said, I actually think PLTR is sandbagging, by targeting 30%. I expect growth to average of at least 40% for several years, with the potential to hit 50%. In turn, that implies:
…investors could enjoy 40-50% capital gains per year, although it might be quite lumpy along the way. If this is true, then hitting $90 to $120 in 2025 is rational.
I bring this up for those investors who are able to think in the long term, and are not dismayed at the day-to-day gyrations of the market. Also, I am seeing this, just like you: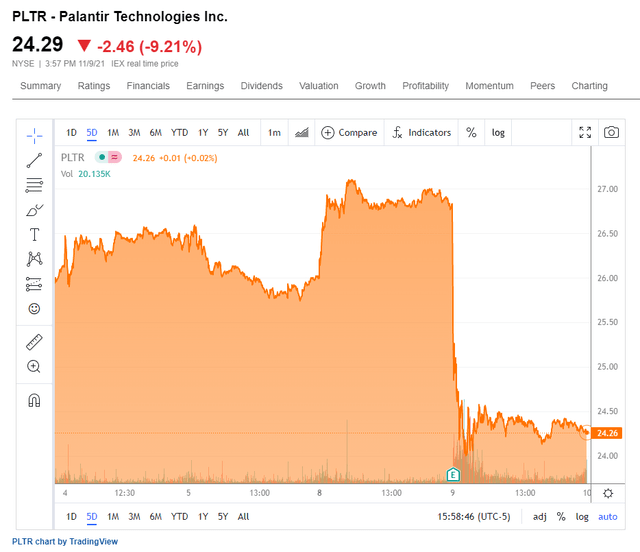 Source: Seeking Alpha
So what? Here's some perspective:
5-day gain: 2.41%
1-month gain: 13.83%
6-month gain: 34.44%
Year-to-Date gain: 13.59%
1-year gain: 93.42%
PLTR is not a one day stock. It's not even a one week, one month or one year stock. For investors, the idea should be to have a very long perspective, and then act accordingly.
The company builds software well ahead of time, before requested, planting the seeds for growth. Investors should likewise be prepared to invest with vision but then allow the company to compound its success.
We have seen that customers will catch up with what PLTR is offering. Of course, that includes more and more AI capabilities over time.
I remain bullish on PLTR.

Best-of-Breed Growth Stock Ideas Targeting Oversized Returns
I'm not sure this is for you but I've just launched a brand new premium service called Growth Stock Renegade.
Proven research methods championed by growth stock investors like Peter Lynch, Richard Koch, and Phil Fisher.
Join today for less than $2 per day. And when you join, I'll instantly share my actively managed growth stock portfolio. (New pick just posted.)
Right now is the perfect time to subscribe because it's affordable for any budget. Plus, there is a 14-day FREE TRIAL.
(You are fully protected by Seeking Alpha's unconditional guarantee.)
Original post: https://seekingalpha.com/article/4467821-palantir-artificial-intelligence-pltr-stock-long-term-investor